Adventure and excitement to enjoy with your friends.
Become an unstoppable archer and have fun!
This frenetic activity combines skill with aim, 5 different targets where you will show up your skill with the archery use.
SHARP YOUR AIM WITH TOTAL SECURITY
Do you like living new experiences? Archery practice is done for you, it will impress you for different reasons:
You will learn essential archery techniques but in a safety environment.
Safety is guaranteed… Bosc Aventura's arrows have a sticky arrow which make an activity without risk.
Archery is developed in a secure field for this activity practice.
Instructors will teach you the archery rules and how to beat your opponents.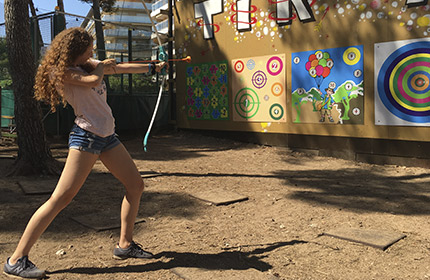 DARE YOURSELF WITH #LIKEROBINHOOD CHALLENGE AND EARN A PERSONALYZED CERTIFICATE
Are you ready for the challenge we purpose you?
During the archery course you will keep writing the points you make on the different targets.
Are you going to be good enough to do more than 60 points?
Show us your scorecard at reception and get a personalized diploma with your name.
Do you like archery? Now you can test your skill with this precisions port and become a real Robin Hood or a super heroine like Brave. Dare yourself your focus and get the highest punctuation hitting the targets. Fun and adventure to enjoy archery as you never have done it before, in a secured and protected environment.
IN THIS ARCHERY FIGHTING IN SALOU YOU HAVE TO BE HERE.
The bow is waiting for you!
So, come with your friends and enjoy the beauty!
El tiro con arco en Bosc Aventura Salou incluyen:
FOR YOUR SECURITY AND COMFORT, DO NOT FORGET TO TAKE:
Sport shoes.
Comfortable clothes.
Long hair must be collected.
ARE YOU AN ADVENTURE PERSON?
Bows and arrows are ready!

Only you are missing.
DO YOU HAVE ANY DOUBTS? CONTACT US!