You will improve your swing and you will have a very special day. Do not miss it!
PLAYING MINI GOLF IN SALOU?
Choose Bosc Aventura, Your winner!
GET READY TO DISCOVER THE MOST EXCITING MINI GOLF IN SALOU
Skill, concentration and aim, Sharpen them every game!
Si te gusta jugar al minigolf, te ofrecemos If you like to play mini golf, we offer you 14 different mini golf courses where to have a good time. Would you like to spend one day with your friends, family or with your school mates with sport and cheer as protagonists? Bosc Aventura, your park of adventures in Salou, makes it possible!
Show the necessary skill and concentration in each of the mini golf games that compose this circuit and reach the goal on with the fewer number of possible blows. Do you dare?
Due to you are a winner, don't doubt. Do physical exercise having fun.
Your best golf swing with a lot of laughs.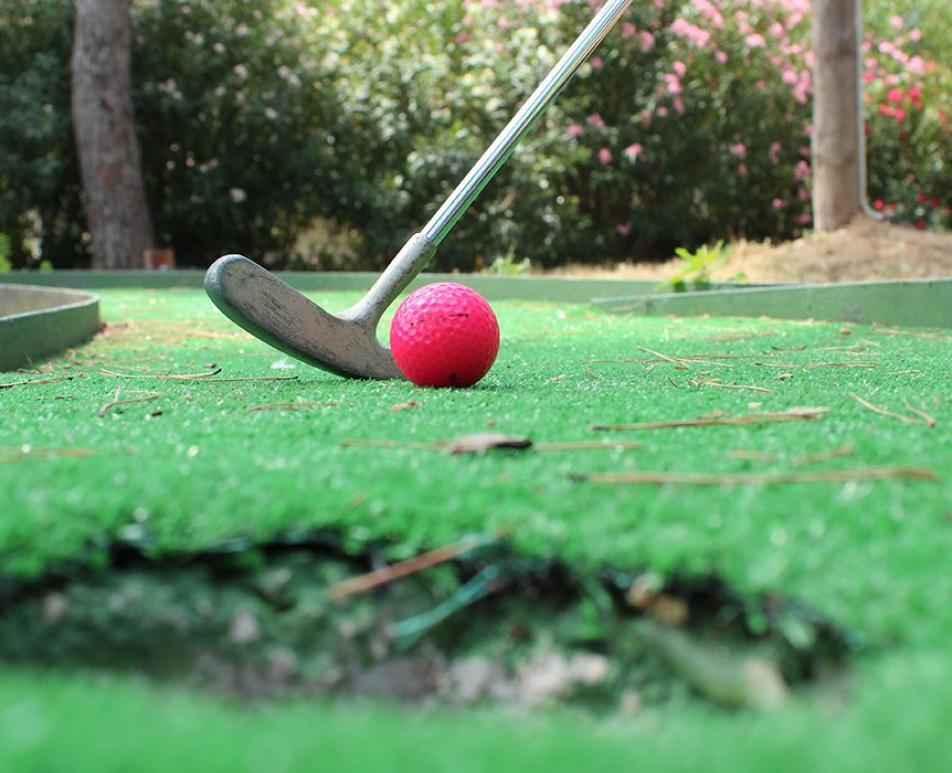 In this activity you will have to show up your skills if you want to achieve the challenge. Are you ready?
TRY THE #IBEATNUMBER7 CHALLENGE AND WIN A PERSONALIZED CERTIFICATE
Are you ready for this challenge?
During your minigolf course you will find some obstacles, but the hardest would be the 7th course
Can you do it before you do 5 kicks?
Show us your scorecard at reception and get a personalized certificate with your name.
Undoubtedly the best mini golf in Salou.
14 MINI GOLF TRACKS FOR THE LITTLE GOLF
PROMISES
Are you ready to start the game? Go to Bosc Aventura.
There is a big Mini Golf in Salou waiting for you.
WHAT ARE THE RULES TO FOLLOW TO PLAY AT BOSC AVENTURA MINI GOLF?
RECOMMENDATIONS TO PLAY AT BOSC AVENTURA MINI GOLF:
Bosc Aventura Salou mini golf games include:
YOU HAVE DOUBTS? CONTACT US!